Category: Compressed Air and Gas Filters
Product Code: Micro-Series-Air/Gas Microfiltration Products

Finite® Filter's Micro-Series filters are designed to provide absolute rated membrane filtration for the semiconductor, pharmaceutical, and food and beverage markets. Our pleated membrane media offers absolute removal ratings for contaminants as small as 0.01 μm while providing lower differential pressures than competitive membrane products.
Finite®s pleated PTFE media has the lowest pressure drop at rated flow and the highest efficiency in the filtration industry. These important factors provide substantial savings for our customers.
All flter housings are constructed of 316L stainless steel and have a Maximum pressure rating of 150 PSIG/10 bar. Connection sizes range from 1" NPT to 6" flange.
Industries & Applications
Semiconductor/Microelectronics

Pharmaceutical/Medical

Food and Beverage

Clean, dry air (CDA) final filters

Wafer drying systems

Hard disk manufacturing

CDA to replace use of nitrogen

Automated disk testers

Wafer polishing equipment

Bag cleaning

Bottle filling machines

Laboratory air

Venting of holding tanks

Filtration of bulk gases

Gas calibration equipment

Aseptic packaging

Air bearings/motors

Blow molding

Conveying

Purging

Tank padding
Features and Benefits - PTFE Membrane
PTFE membrane media is non-fiber releasing and provides broad chemical compatibility
High flow rates and optimized surface area reduce filter consumption
100% Integrity tested
Pleated construction provides large high purity filtration area for Maximum yields
Biosafe in accordance with USP Class V1-121°C Plastics Tests
Polypropylene support hardware with fluorocarbon o-ring seals withstands demanding operating conditions
Narrow pore size distribution ensures the ultimate in retention and flow rate
All materials of construction are FDA listed as acceptable for food contact according to CFR Title 21
Manufactured and packaged in Class 10 clean room
99.999999% (8 log) efficiency at specified removal ratings (0.01 μm, 0.02 μm)
Membrane Element Specifications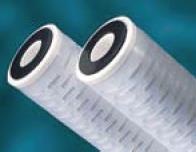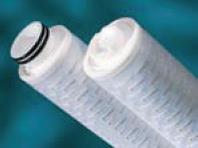 Sealing Technology: Thermal Bonding
O-Rings/Gaskets: Fluorocarbon
Maximum Differential Pressure (FWD): 60 PSID
Maximum Differential Pressure (REV): 50 PSID
Packaging: Double bagged in Class 10 clean room
Housing Selection
MT1 Series

316L Stainless Steel

Thru-rod housing design

1" NPT threaded inlet and outlet ports

Threaded vent and drain connections

T-Type (line mounted design)

Single double open end element design

Cartridge lengths 10" and 20" available

Fluorocarbon seals used throughout

MF2 & MF3 Series

316L Stainless Steel

Single fluorocarbon o-ring for positive housing seal

Swing bolts w/ eyenuts

n ASME Code - UM Stamped

Threaded vent and drain connections

Adjustable leg height

Flanged or threaded inlet and outlet connections

Side inlet, bottom outlet

MF4 & MF6 Series

316 Stainless Steel

Single fluorocarbon o-ring for positive housing seal

Swing bolts w/ eyenuts

ASME Code - UM Stamped

Threaded vent, drain, gauge connections

Mechanical cover lift standard