Nitrogen Gas Generator for Rent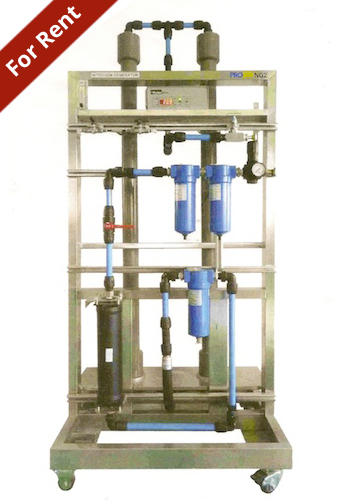 PROSER's designs custom-made Nitrogen (N2) Generator, meant to meet your nitrogen requirements. Capitalizing on the technology of Parker Hannifin, PROSER utilise the Parker Hannifin high efficiency Nitrogen Membrane modules for all custom-made Nitrogen Generator for rents. PROSER Membrane Nitrogen Generators completely eliminate the inconvenience and the high costs of nitrogen Dewars and cylinders, the hassles of changing dangerous, high pressure cylinders and interruption of gas supplies. PROSER will provide professional services, parts in the rental service contract. Once the Generator is installed, a continuous nitrogen supply of consistent purity is available within minutes from start-up.
The rental of the nitrogen generator offers reliable service and its usage stability. It insulates the user from uncontrollable vendor gas price increases, long term commitments and contracts fees.
The advantages of renting a Nitrogen Generator are
Lower cost. It eliminates the need for costly gas cylinders.
It is a complete package with prefilters and carbon filters.
It is hassle free, easy to install and easy to operate.
It eliminates unexpected shut downs due to a "bad" or empty cylinder.
It is safe and reliable.
No electrical line is required for the custom made nitrogen generator.